Discovery and active packages

back to evasion products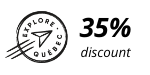 Basic package includes
2 nights at Manoir des Sables in a standard room
1 round of golf per person at Golf du Manoir des Sables
1 activity per person among these :
-Hiking Parc des Sommets de Bromont
-Day access at Parc de la Yamaska
-Day access at Parc du Mont Orford
-Gondola ride at Bromont Montagne d'Expérience
Taxes et services
Explore Quebec discount of 35% from September 1st, 2021
Limited seats before Tuesday November 30th 2021 23:59
Custom Golf package
Choose your golf and hotel
Eastern Townships
3 days , 2 nights
From October 10th to October 17th 2021
Lodging: Manoir des Sables, Orford

As a couple or with firends and family, golf the Eastern Township when and how you want with this custome made package. Pick and choose your date as well as your golf course. Make it and Explore Quebec package by adding a day of Hiking, a visit at the spa or a local Micro-Brewery or any other activity offered and save 25% on your getaway.

Adult rate in double occupancy
STARTING AT $162.50 (regular price: $250)





AVAILABLE GOLF COURSES
a minimum of 1 round of golf per person is required at one of these courses




ACTIVITY CHOICES
a minimum of 1 activity per person is required amongs the following










For more information or to book,
contact us at
514 990-5917
1 866 662-1029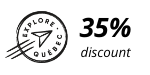 Basic package includes
2 nights at Manoir des Sables in a standard room
1 round of golf per person at Golf du Manoir des Sables
1 activity per person among these :
-Hiking Parc des Sommets de Bromont
-Day access at Parc de la Yamaska
-Day access at Parc du Mont Orford
-Gondola ride at Bromont Montagne d'Expérience
Taxes et services
Explore Quebec discount of 35% from September 1st, 2021
Limited places before tuesday november 30th 2021 23:59